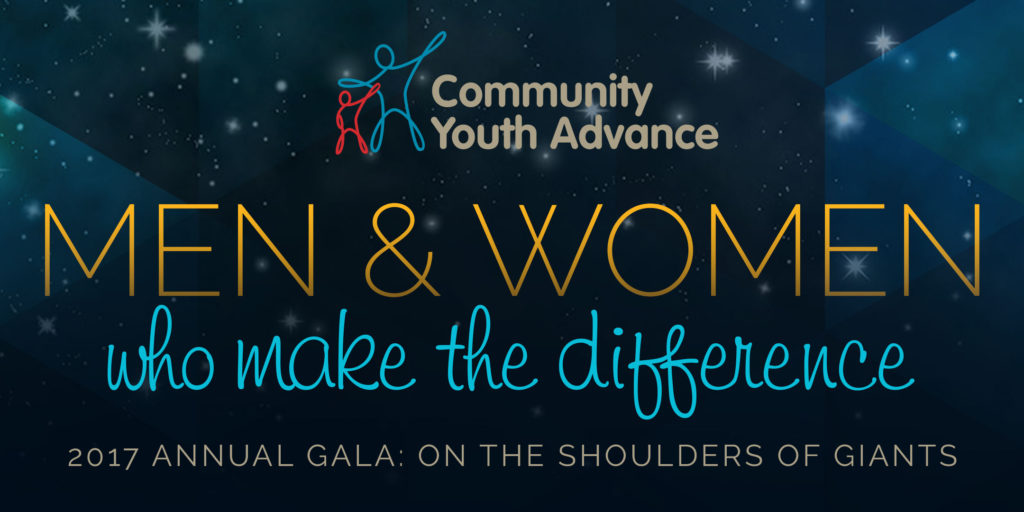 Become a Sponsor
---
In 2016, we served close to 200 students and their families. With your support, we can serve even more! Download a sponsorship package to learn more about the promotional benefits. Sponsorships are due by October 10, 2017.
You're Invited
---
Community Youth Advance's Men and Women Who Make the Difference Gala is where we celebrate men and women in our community who are making the difference in the lives of young in Prince George's County. Our theme for this year is "On the Shoulders of Giants". Our ability to fill existing gaps—improve the academic performance of our young boys and girls, or build character and self-confidence for our mentees—relies on the support we receive from community partnerships. With more than 12 years of impact, you can trust that every cent you contribute will be well-managed. In this year alone, we helped over 140 students make academic gains in STEM education through our Saturday School partnership with Prince George's County Public Schools and 45 mentees who showed academic progress, community leadership and character development were recognized at our annual Mentoring to Manhood Rites of Passage ceremony. In addition, 10 young men completed their first Telecom Certification course as part of our career pathways initiative.
Today, we are requesting your partnership in this effort with sponsorship dollars. Community members like you are so important to our success. The enclosed sponsorship package outlines promotional benefits for each level of support. Sponsorships are due by October 20, 2017.