Daon McLarin Johnson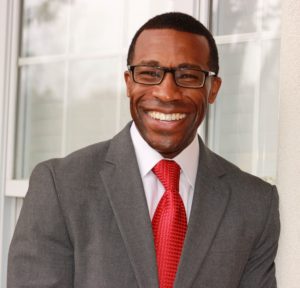 Daon McLarin Johnson is the son of the late, Willie Charles and Helen McLarin Johnson. Born in Baltimore, Johnson attended Maryland public schools, graduated and completed a bachelor's degree in Accounting from Clemson University in South Carolina.
Upon graduating, Johnson returned home to the Baltimore-Washington area where he worked as a corporate accountant.  After working in accounting for three years, Johnson answered a deep call to seek a higher calling for his existence. Relocating to Oklahoma, Daon entered graduate school at Oral Roberts University in Tulsa where he earned a Master's Degree in Practical Theology.
After receiving his master's degree, Johnson relocated to Nashville where he served on the staff for a global non-profit organization and founded the Ministry Training and Leadership Academy dedicated to equipping individuals and organizations with tools for empowerment and achievement.  Author of The Legend of Kondoo, Johnson has traveled throughout the United States and abroad in order to empower leaders for excellence.
After twenty years, accepting the Director of Mentorship position with Mentoring to Manhood has allowed Johnson to return to Baltimore-Washington area to serve in an arena for which he is most passionate – mentoring.  Johnson is husband to his beautiful wife Anita and the proud father of six; Quntavius, Caleb, Lisa-Nicole, Nabien, Mark and Bryce.