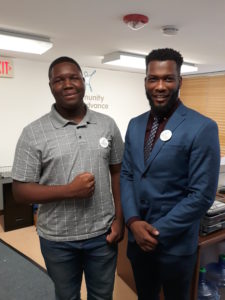 From Mentee to Mentor
A Profile by: Jonathan Anderson
Community Youth Advance Summer 2019 Intern
Cavaggio is currently a mentor in Community Youth Advance's Mentoring to Manhood(M2M) program. Cavaggio has been involved in the program for about 3 years now, but he started his journey as a mentee in the program when he was 10. 
After graduating from high school he spent a semester at Montgomery Community College, then transferred to Morgan State University. He decided to come back as a mentor his sophomore year, first at "Horton's Kids". He's been a mentor at M2M for a little over 2 years, and he is still learning and growing in the program. 
"Now I'm in that situation where I'm like the mentee and the mentor at the same time," said Cavaggio. He is so happy to be part of this community, challenges and all.
Cavaggio didn't have much access to male role models when he was younger. His mom felt like he needed a little help from his dad, 
so she sent him to Guyana to live with him and get that missing experience. It only lasted for a year, but his mom wanted him to continue to get the experience he needed, so she put him in mentoring to manhood(M2M). 
"M2M is like a village of men," says Cavaggio. "It wasn't like having 'my' father, but it was actually completely different in a better way. The men in mentoring to manhood gave me a completely different outlook on what a father could be, or a male figure. Someone who's not even your father, or even your brother, not related to you, but willing to invest time into you, willing to invest money into you and just make sure that you're doing right. It's kind of life changing." 
These experiences have inspired him to want to give back and make a difference in the community as well. Cavaggio also shared that he did have some male support from his family; it just wasn't as accessible and convenient for him. He said his father hadn't been in his life since he was about 1 year old, so he didn't really know how to be a father. 
But having a male role model doesn't always mean having a father. Cavaggio mentioned having uncles/cousins that didn't live close but still came to check up on him when they could.
Cavaggio has enjoyed his time in the program, having fun and learning with the mentees and mentors. He loves black history; his favorite event was an M2M trip to the Blacks in Wax Museum in Baltimore, MD. He wishes we could've spent more time in there. 
Cavagio looks up to long time mentor of M2M, Joseph Somerville. He is inspired by Mr. Somerville's attitude, the way he cares, and how he carries himself. He wishes to, someday, be able to give as much as Mr. Somerville. Cavaggio's advice to mentees: There are people out there that care, so appreciate there investments in you. His advice for mentors: Remember to have patience with your mentees, especially the kids.
Photo (l to r) Jonathan Anderson, CYA 2019 Summer Intern & Cavaggio Massiah, Mentoring to Manhood Mentor 
ALSO: Click to watch Cavaggio and his mentee in:  Unleash Your Inner Hero
Learn more about Mentoring to Manhood