Community Youth Advance, with the support of local businesses and organizations, will provide backpacks, school supplies and encouragement to nearly 1,000 youth throughout the country through Community Youth Advance's 3rd annual Project Backpack Drive!
All students, whether they are in Pre-K, a senior in high school, or somewhere in between, are working hard to stay focused and striving to be their best despite the challenges of the past school year.
Through Project Backpack, Community Youth Advance hopes to provide a minimum of 600 backpacks filled with basic school supplies like notebooks, pencils and calculators, as well as encouragement to facilitate success outside the classroom, such as notecards, fun facemasks and affirmations or words of encouragement.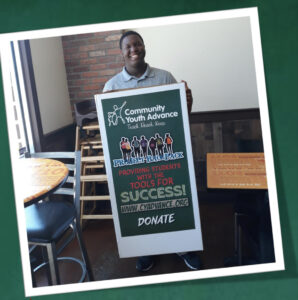 We hope to strengthen the connection between youth and their community by emphasizing that we are always behind them, rallying for their success. Reminding a student that they have people rooting for them can make a world of difference. 
If your business or organization would like to invest in the mentorship and academic re-engagement of youth, we invite you to officially become part of the team by filling out a bin registration form, checking out the list of backpack essentials and sharing this information with anyone else who might be interested.
Email our team at [email protected] to receive your Get Started Kit today! 
Thank you again for investing in the success of our youth, and we are excited to welcome you to the team!